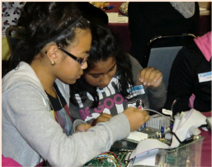 Due to the large volume of requests for content, activities and training from educators and parents,
Cool Careers in Cybersecurity for Girls expanded to offer after school and summer programs.
COOL CAREERS IN CYBERSECURITY FOR GIRLS CLUBS MODEL
Partnering with non-profit agencies including schools, libraries, and community based organizations, C34G Clubs connect curriculum focused on STEM and careers to communities and future job opportunities to markets across the country. To learn more about starting a club in your area, select the Starting a Club tab above.
THE CONTENT
Updated content based on a variety of current cyber crime scenarios

Videos
Hands-on activities
Project-based activities that support career connections in cybersecurity related to the cyber crime scenario
Supplemental parent and student career briefs
Click here to learn more about the After-School Programs
Our Instructors
To qualify to teach a Cool Careers for Girls Club, instructors must have a demonstrated interest and experience in STEM related fields. We provide propietary curriculum, and can give either web based or face-to-face training with respect to its content, and instructional best practices. The ideal instructor has experience teaching a STEM course, and an interest in computers, cyber security, robotics, and content based learning. Click here to learn more about becoming an instructor. Click here to complete an online application to become a Cool Careers in Cybersecurity Program instructor
Click here to learn more about C34G volunteer options.